By far, one of the best parts of our honeymoon trip was learning so much about Hawaiian culture, including the intense love its residents have for the ocean environment and the life forms that comprise it.
Never having snorkeled before, I must say I was a bit (as in, very) nervous as we headed out for our first sea excursion of the cruise. But in the end, other than feeling a little cold afterward, I had a blast checking out colorful fish and rare coral at two of the top snorkeling spots in the world – Molokini Crater off of Maui, and along the famed Kona coast on the "Big Island," Hawaii.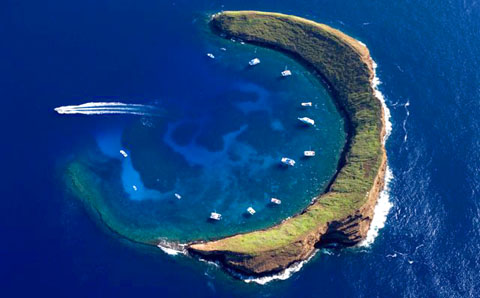 As if that weren't already enough fun, we were also amazed to discover a total of three separate pods of dolphins, plus a pod of pygmy sperm whales, which our guides hadn't seen in local waters for over a year. Being so close to these animals made me feel I was looking at something in a magazine, with dolphins jumping in the sea under a sky painted with the occasional rainbow.
And a fun fact we'd never heard before? Dolphins' sonar allows them to detect when someone is pregnant, and their instinct to protect other mammals then leads them to surround the boat or raft she's riding in! Our guides definitely had a couple interesting stories about women who didn't already know they were pregnant receiving a clue from the way the dolphins acted. Pretty cool, huh?
Have you had any fun encounters with wildlife, whether on your honeymoon or another trip?
(Photo & Video Credits: Personal Library & Google Images)