Searching for a fun way to kill time during our holiday trips, I picked up the silly-but-cute
Do You Know Your Bride?
and
Do You Know Your Groom?
quiz books I've seen a couple other bloggers recommend.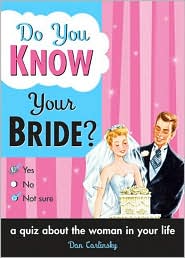 Filled with some semiserious questions (Which older couple does your bride look to as a role model for your marriage?) and some totally wacky ones (Does she ever eat something straight from the freezer that should be defrosted?), these quizzes will test just how many random facts you and your husband-to-be know about each other.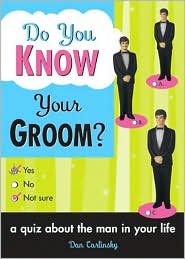 And for only about $6 per book, they're a pretty inexpensive way to have fun and get a laugh. The only problem? We'll probably go through all the questions before it's even time for our trips!

Have you played these or any other fun bride and groom games?
(Photo Credits: Barnes & Noble)