How many wedding gowns did I go through before making a choice? Surprisingly, not nearly as many as I thought I would. But picking out a dress for my maids? Now, that was the hard part!
When I first started keeping an eye out for bridesmaid dresses (which I'll admit was during my pre-engaged days), I was crazy about some of the short, sassy designs by Mori Lee.
But when I actually saw them in person, they seemed too informal for our church ceremony, and also weren't a good match with my dress. (More to come about that very soon!) It was on to "Plan B." With my sister, who's my maid of honor, being a great sport, we scouted around tons of different shops, including David's Bridal, where she tried on a couple other styles.
But neither of them stood out as "the one." Finally, after lots more indecisiveness, we struck gold at a store carrying dresses by one of my all-time favorite designers, Alfred Angelo. There, Kellie graciously got in and out of a few more gowns, telling me what she loved and hated, until we both fell in love with this beauty.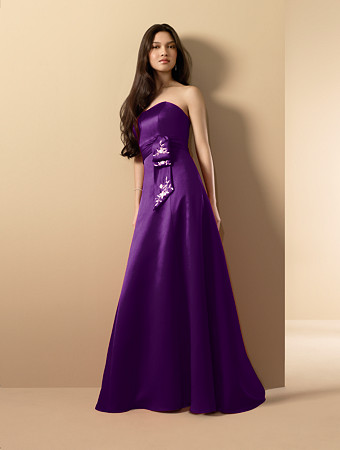 Not only do I love how elegant the gown looks in rich grape, but the beadwork and white embroidery on the sash also add just the right touches of embellishment. And with added spaghetti straps, the dress has turned out to be a flattering pick for all seven of my maids, despite their different heights and body types.
Did you and your bridesmaids consider many different dresses before making a decision? Are your girls all wearing the same dress, or are you letting them choose their own gowns in a certain color or style?
(Photo Credits: Mori Lee, David's Bridal & Alfred Angelo)