Now that I'm finally all set with the wedding gown of my dreams, I must say I'm much more excited about the "getting ready" phase of the day.
Closing my eyes, I can picture the moment. I'm stepping into the dress… My mom and sister are zipping me up and fluffing the train… It's all perfect except for one little thing.
I won't have any professional photos to document it!
Let me first explain that our photography package includes eight hours of pictures, and that in the beginning, we thought that would be more than enough time to get all the shots we want. But now, since we plan to do a "first look" at the Gardens of the World botanical site, the hour we would have allotted for "getting ready" shots is instead being devoted to that photo session. The logistics are also understandably complicated by the fact that the house where I'll be getting ready, the hotel where Stephen will get ready, the "first look" site, the church, and the golf course reception site, though all fairly close to each other, are obviously not in the exact same place.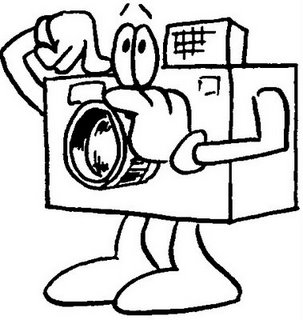 Plus, now that I've received my hair and makeup timeline, I'm wondering whether an extra hour would even be enough time anyway. You see, as of right now, my stylist plans to start doing my hair during the morning hours, and my makeup application mid-morning, so that there will still be plenty of time should I request any last-minute changes.
I suppose I could ask our photographer what it would cost to add extra hours to our package, but with the cost of my new gown and our planned catering upgrade, the wedding budget is just about maxed out. So, the only solution I can realistically foresee at this point is to ask our friends and family members to handle these shots, both as I'm getting ready and as the groom is getting ready across town.
Has anyone else faced this problem? Do you think our friends can handle these photos OK, or is it worth the money to look into having a professional onsite? How are you handling the pre-wedding shots?
(Graphic Credit: Google Images)