As I stood waiting to slip into "the" gown during my first fitting, I felt excited, yet a bit anxious. After all, this was the moment I'd worked hard all summer for. Ran three miles a day for. Passed up cookies, chips and that extra glass of wine for. Would the dress fit the way I hoped it would? Would I love it as much as I did when I picked it from among a bevy of others back in August?
Happily, the dress fit perfectly, with only a couple changes needed at the hem. And yes, I loved it every bit as much and more. Having done my homework ahead of time, I also came prepared with the exact shoes and lingerie I plan to wear the day of the wedding. What I wasn't prepared with were ideas about the type of bustle I wanted.
As a custom wedding gown designer from Peru, my seamstress has experience altering just about every type of dress, and was full of great ideas to enhance mine, such as attaching a couple small weights underneath my train so that it won't crumple when I walk. When it comes to bustles, she said, the sky is the limit, and she's seen it all. Here, a couple of the popular styles we considered for my gown.
Overbustle -- This style was subtle and barely noticeable. While it showcased the details on my train, the look felt a little too understated.
Pickup Bustles -- These were elegant and classy, with several variations, and I strongly considered the style.
But in the end, nothing impressed me as much as the gorgeous eight-tiered French bustle she showed me next. In my excitement, I completely forgot to snap a picture of the pinned-up layers, but here are examples of French bustles that are somewhat similar to mine.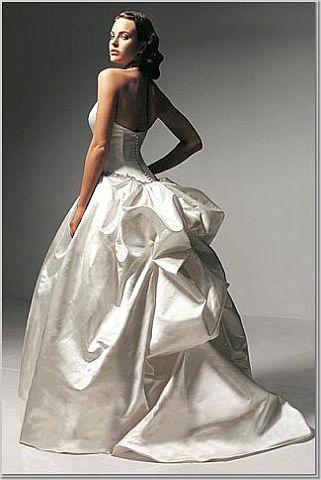 I'm in love! Have you picked out a bustle style for your gown? Which designs are your favorites?
(Photo Credits: Google Images)