My dream of being showered with rose petals at my wedding is no more.

The bummer came after learning that our ceremony site -- a Catholic church -- doesn't allow items of any kind to be thrown at the couple following the I-dos. After I got over my initial disappointment, I started scouting around for possibilities that don't involve tossing anything into the air.

Releasing doves seemed a bit over the top for us, but I was excited when a family friend told me about a wedding she'd been to where butterflies were released instead. Searching different websites, including Swallowtail Farms', I found tons of options, including ordering an individual monarch butterfly for each guest, or arranging for the bride and groom to do a mass release.

According to these sources, the butterflies "hibernate" in small cardboard cases until it's time for the release. As long as the weather forecast is sunny with a temperature of at least around 60 degrees, the butterflies will take flight once their boxes are opened.

What do you think? Should I go for it? Would you like to watch or be part of a butterfly release at a wedding?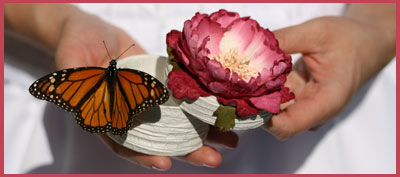 (Photo Credits: Swallowtail Farms & Butterfly Sales Outlet)