Though I rarely wear high heels in everyday life, like most brides, I wanted to rock a classic pair on my wedding day, if only for the photo ops and so that I'd be closer in height to my husband, who towers over me at 6'4".
But as reasonably comfortable as my three-inch heels actually were throughout the ceremony and part of the reception, I still had no intention of sticking with them all night long. No, as soon as the garter toss -- the last photo op of the night for my feet -- came to a close, I was more than ready to trade in my heels for a pair of silver Delicate Soles shoes I'd won through a blog giveaway.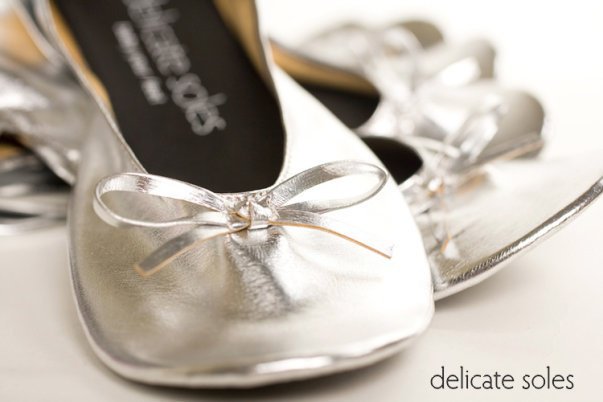 Not only were these shoes comfortable, but because they're designed to roll up for storage, they were also incredibly easy to slip into my bag of essentials for the day. Plus, the silver color still matched up with my color scheme, letting me dance the night away in style!
Are you bringing a change of shoes for yourself or your bridesmaids? Do you normally like to wear flats or heels?

(Photo Credit: Delicate Soles)