Last week, as the fashion world buzzed over what the former Kate Middleton and now Duchess Catherine's wedding gown would look like, with brides everywhere eagerly awaiting the chance to get copies, I couldn't help but wonder whether it would be wise for so many women to want to copy someone else – especially someone who might have a very different build and body type than they do.
Though Catherine ultimately went with a very classic and flattering style, if you've ever read a fashion magazine or looked at bridal runway shots, you already know as well as I do that wedding gowns are "sold" to the rest of us on models that oftentimes look very much like Catherine – tall and extremely slender.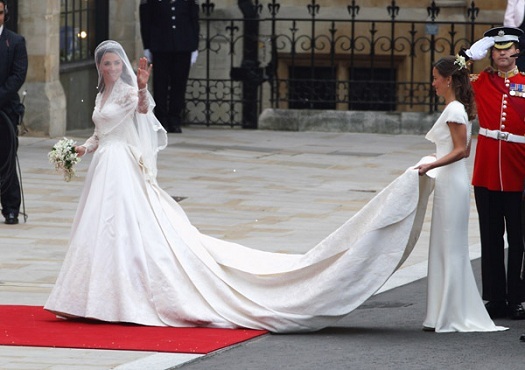 In reality, as much as I loved attending the Bridal Market fashion shows last month, the lack of diversity on the runways and the twig-like figures of many of the models definitely didn't go over my head. Though I consider myself to have a pretty trim and petite figure, one that I have worked hard to maintain over the years, the fact that even someone my size would be considered too curvy to head down the runway is truly disturbing.
From an industry standpoint, I well know that the goal is to sell as many gowns as possible and earn as much profit as possible. Most designers feel the best way to do this is to showcase gowns on thin models. But are these portrayed ideals realistic? Why is there so little cultural diversity in the fashion world, and is it wise for designers to market "Kate's gown" to brides who may be better suited by a different style entirely?
What do you think?
(Photo Credit: Official Royal Wedding Website)