Like many a bride before me, I started my quest for the perfect wedding dress by poring over magazines, websites, blogs and catalogs, even before I was officially engaged. With the proposal obviously on the horizon last spring, I figured it couldn't hurt to get a glimpse of what was out there in the wedding gown world.
Though I scoped out lots of designer's lines, most all of my early favorites came from Alfred Angelo's gorgeous and affordable collection, including these beauties, each different in style and cut.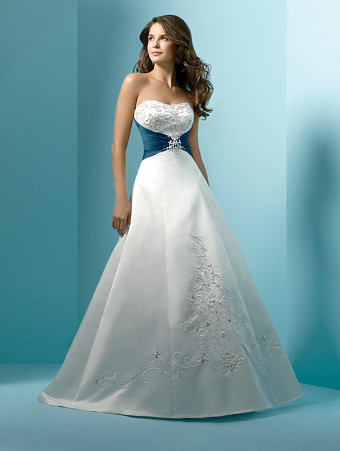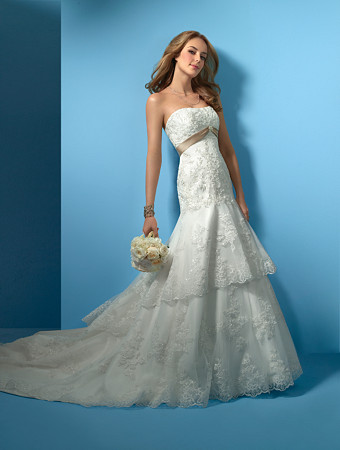 Soon armed with plenty of ideas and a ring on my finger, I was eager to get shopping with my mom and sister the next time I headed out to California. But then, one day while we were visiting Stephen's best man and his girlfriend, we stopped by a Men's Wearhouse to check out a few tux options for the guys. Can you guess which store was right next door? Yup! David's Bridal!
So, while the guys amused themselves with video games and gadgets in Best Buy, Kate and I headed into David's, supposedly only to look. But as you can imagine, just looking wasn't good enough. I immediately saw two dresses I just had to try.
While I thought I'd love the first one, after putting it on, I immediately decided it was a "no." I disliked the embroidered details, and since this was the first wedding gown I had ever tried on, I was shocked by just how heavy the skirt truly felt.
But the second gown, which was part David's Oleg Cassini line, had an elegant, classy and timeless look I completely fell in love with. Plus, the dropped waist seemed perfect for my figure, and the details on the train blew me away.
But was it "the one"? Would I love it as much when I went back with my sister and mom? Stay tuned…
How did you begin your dress search? Did you surprise yourself by liking styles you didn't originally think you would, or by hating a dress you loved on the hanger?
(Photo Credits: Alfred Angelo & Personal Library)